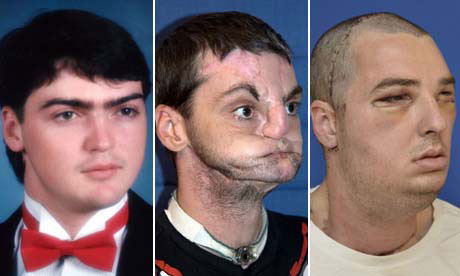 A 37-year-old Virginia man, who was severely disfigured in a gun accident 15 years ago, is doing well after a face transplant.
It's the 23rd face transplant since doctors began doing the procedure, seven years ago.
The recipient, Richard Lee Norris, was given a new face, nose, teeth and jaw in what his University of Maryland doctors say is the most extensive face transplant yet. A week after the surgery, Norris can feel his face and is already brushing his teeth and shaving. He has also regained his sense of smell, which he lost in the accident.
The donor's family had been consulted specifically about donating the face. Although Norris now has the donor's facial tissue, he does not resemble the donor but appears as a blend of two people.
The 36-hour operation was the most extensive of its kind because it included a transplant of the donor's upper and lower jaw, his teeth and a portion of his tongue. It also included all his facial tissue from the scalp to the base of the neck.
The first full face transplant was performed in France in 2005 on a woman who had been mauled by her dog.
Full story here: The Guardian
See video here: UMM